7-Day Corporate Fast for Union Grove
Our 7-Day Corporate Fast Starts Tomorrow!
Pastor David Anthony Clarke is asking every member…EVERY member…of Union Grove to participate in monthly corporate fasts throughout 2018. The fast for February is requesting every member to abstain from bread, sweets, and only drink water as a beverage (no soda, tea, coffee, kool aid, etc.) from February 1-7. We shall also abstain from social media for those seven days. No social media! Let's agree to a total blackout, i.e., no scrolling, no posting, no visits whatsoever to any social media (FaceBook, Twitter, Instagram, Snapchat, LinkedIn, etc.) during the fast.
Let's focus on and pray Rom. 12:1-2 during February's fast. Let's give more of ourselves to God as holy, living sacrifices. Please pray continuously throughout the day as you're getting dressed, exercising, commuting to and from work, doing housework, etc. However, in addition to boosting our time in prayer and God's Word during the fast, please remember Pastor's request for every member to give God at least 30 minutes of our undivided attention. This means to pray devoting all of our time and energy in prayer for at lest 30 minutes. This is an effort for God to have all of you at least for those 30 minutes without television, texting, driving, again-no social media, taking phone calls, etc. Give God your whole self during those 30 minutes. If you're going to use a mobile device to track your 30-minutes with God, please put it on airplane mode so you cannot be disturbed!
A fast without sacrifice is not a fast!
Let's trust God for a fruitful fast!
Be encouraged & enjoy the journey!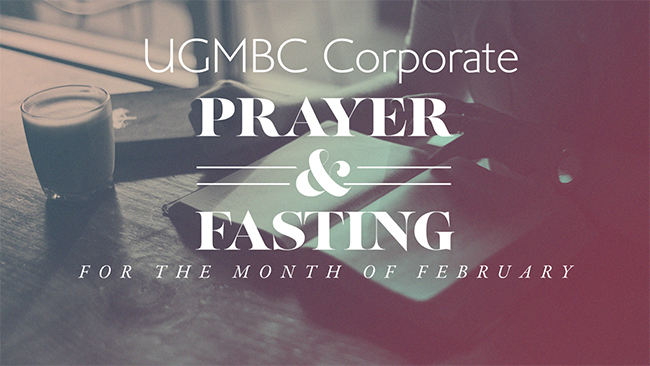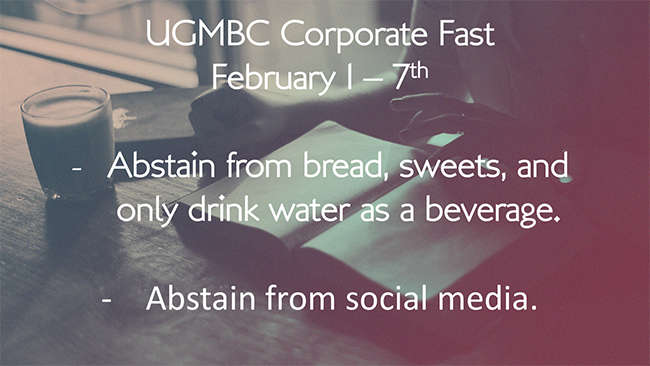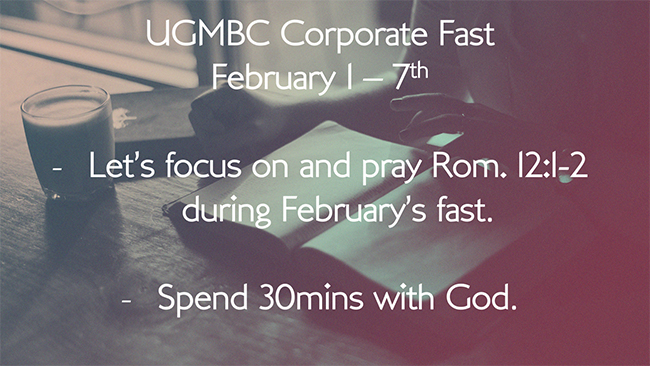 FAQ Fast for February 2018
Food
We are abstaining from breads (white bread, wheat bread, dinner rolls, hamburger/hotdog buns, etc.) and sweets (candy, pies, cakes, ice cream, frozen yogurt, sherbet, pastries, donuts, etc.). I've been asked:
Can we eat saltine crackers? No.
Can we eat graham crackers? No. However, I've been told that our Health Care Ministry provides graham crackers to some of our parishioners who's blood sugar drops too low during Sunday morning worship. If graham crackers are given to help parishioners with their health during Sunday morning worship, please continue to do what is necessary to serve our people.
Can we eat pasta or rice? Yes.
Can we eat tortilla chips? In my opinion, a tortilla for a taco or a wrap is considered bread. Abstain. However, I do not consider a tortilla for nachos or Doritos bread. But, if you are convicted, don't eat it!
Can we drink Ensure as directed by a doctor? Yes. If your doctor has you on something to benefit your health, please follow your doctor's orders.
Can we eat peppermints? Yes! Please pop that mint! Especially on this Sunday and next Wednesday!!! lol. I am so serious. Pop that mint in Jesus' name!!! But, abstain from butterscotch discs, Werther's, and other little candies.
Abstaining from sweets does not mean you cannot add sugar to your food. If there is a dish you typically add sugar to, i.e., oatmeal, etc. or other foods you cook, you may still add sugar as an ingredient to what you are cooking.
If you have any other questions about food, feel free to ask.
Beverages
We are abstaining from all beverages except water. I've been asked:
Can we add flavor packets to our water? No.
Can we add lemon, lime, strawberries, fruit, etc. to our water? Yes. In fact, for those of you who HATE water, I would not only add the stuff I mentioned, but consider mint leaves.
Can we make homemade smoothies with water, vegetables, and fruit? Yes. But, use water. No milk, almond milk, fruit juices, etc.
No sweet tea, coffee, Arnold Palmers, kool aid, etc.
Social Media
We are abstaining from social media, i.e., no posting, no scrolling, no anything! We will allow an exception for members who cannot attend Sunday worship and want to worship with us via FaceBook Live. By social media, I mean FaceBook, Twitter, Instagram, Snapchat, YouTube, LinkedInand if you're still using MySpace, well…that too. I have heard:
Can I still receive phone calls on my cell phone? Yes! You are allowed to make and receive phone calls on your cell. We are not abstaining from using our cell phones and other devices. We are not abstaining from being social. We are abstaining from social media.
Can I still send and receive text messages? Yes! We are not abstaining from being social. We are abstaining from social media.
Shouldn't YouTube be included in social media since there are comments below the vides? Yes. YouTube is considered social media. Abstain from YouTube.
What about LinkedIn? Yes. Abstain from LinkedIn.
Pinterest? According to Google, Pinterest is not a social media website. Speaking of Google, it is a search engine, not social media.  However Google+ is.